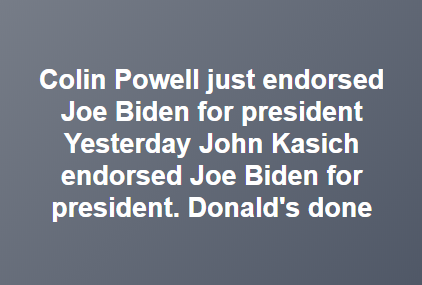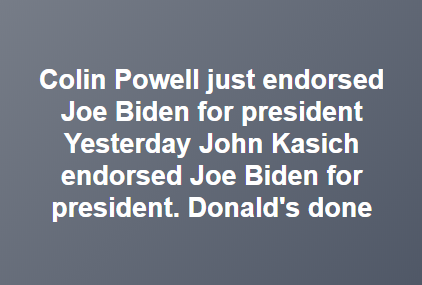 Done?  Well, losing the support of the top spokespeople in the Republican Party may not be auspicious, but it's not the end.  Most Republicans will remain Trump supporters, regardless of what they hear from people like Powell and Kasich (and those below), because:
1) The garden variety hateful ignoramus loves Trump for his brutality against people of color, and
2) The amoral rich are hoping for another tax break.
It's not over till it's over.
---
George W. Bush, the last living former Republican president
Trump's former Defense Secretary Jim Mattis
Former Chief of Staff and Homeland Security Secretary John Kelly
Navy Secretary Richard Spencer
Former Secretary of State Rex Tillerson
Former National Security advisor John Bolton.
Sen. Mitt Romney (R-Utah)
Anthony Scaramucci, former Trump White House communications director
Former Homeland Security Department Chief of Staff Miles Taylor
Carly Fiorina, a former Hewlett Packard CEO and GOP presidential candidate
Meg Whitman, another Hewlett Packard CEO
Former Rep Joe Walsh of Illinois, a former tea partier