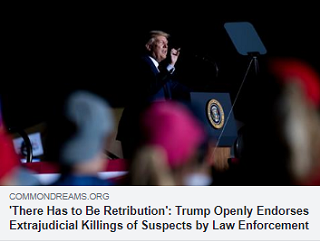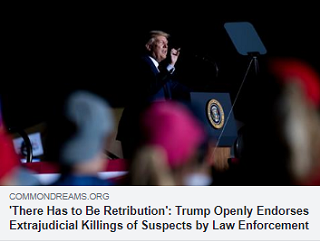 From this article:
Discussing the recent police killing of a self-described anti-fascist suspected of fatally shooting a far-right activist in Portland, Oregon, President Donald Trump openly endorsed extrajudicial executions in a Fox News interview Saturday, declaring that "there has to be retribution."
"I put out, 'When are you going to go get him?' And the U.S. Marshals went in to get him," the president told Fox News host Jeanine Pirro, referring to Michael Forest Reinoehl. "This guy was a violent criminal, and the U.S. Marshals killed him. And I'll tell you something—that's the way it has to be. There has to be retribution."
Trump's comments came days after an ordained minister who lives in an apartment complex near where Reinoehl was shot and killed by members of a law enforcement task force earlier this month in Lacey, Washington said it was not at all clear that Reinoehl was armed when police gunned him down.
There has to be retribution?  Yes.  It's spelled in the U.S. Constitution; it's called the justice system.
This is why Trump and Philippine President Rodrigo Duterte support one another: they are both ruthless crime bosses who use extrajudicial killing whenever it's convenient, thumbing their noses at due process.
Trump savages the U.S. Constitution, and 40% of voters think he was sent by God, and want to make him king.