Moore has a deep resume prior to Green Growth having been President of Clorox Canada, COO of Synnex Canada and Managing Director at Brita North America.  Those are big, big packaged goods businesses.
Joining Moore is key Director Vic Neufeld — a LEGEND of Canadian business.
I can't stress this enough.  Neufeld is literally the exact man that you want attached to this company at this stage.  His involvement here is A Big Deal. 
Like CEO Moore, Neufeld has previously been CEO of a public market homerun. 
Under his 5 years as CEO, Neufeld built Aphria (APHA: Nasdaq) from nothing more than idea into one of the largest (near $4 billion market cap) and most successful cannabis producers in the world.   
Under Neufeld Aphria's stock went from 75 cents to $22 in its first three years of trading — a nice little 30-bagger out of the gate.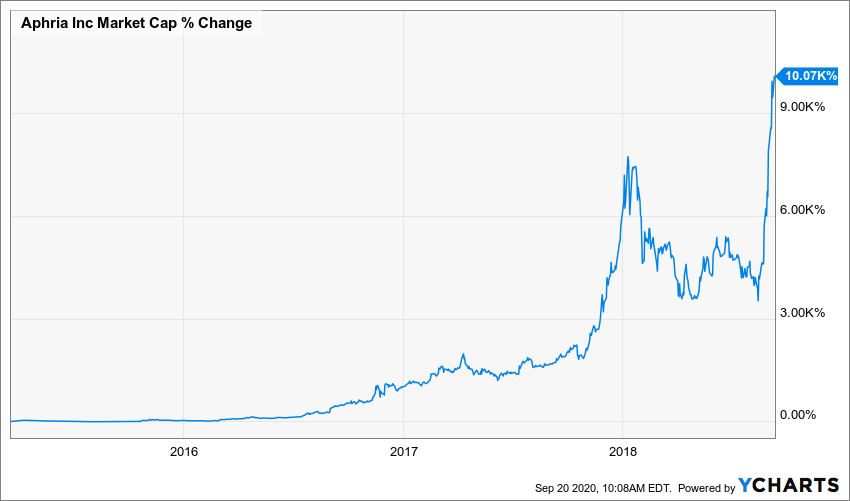 Success follows this man.
After earning an MBA in 1978 Neufeld became a chartered accountant where he shot up the ranks at accounting firm Clarkson Gordon—and at age 32 he became  youngest partner in history there.
But Neufeld is an entrepreneur at heart, so Neufeld left his cushy partner income behind and joined Jamieson Laboratories Ltd as CEO in 1993—when the company was valued at $20 million and had 98 employees with four executives.
What he built there was a dominant, global health brand.
Over 21 years, 98 employees became 600.  $20 million of revenue increased exponentially to $250 million. Market share increased from 7 percent to 27 per cent and countries of operation went from 4 to 44.
In 2014 Neufeld sold Jamieson to a private equity firm for $310 million — an increase in valuation of $290 million over two decades.  A private market 15-Bagger.
Under his watch Jamieson became Canada's largest manufacturer and distributor of natural vitamins, minerals, concentrated food supplement.
As I said……exactly the man you want involved with Havn today. And Havn doesn't just have Vic—Vic has also brought key members of his team—including Gary Leong, his former Chief Scientific Officer at Jamieson Laboratories.
 
Havn's Two-Pronged Business Model
 
 
There are two parts to the Havn story and the company has a huge advantage in both.
This a business with two distinct arms.  The company is split into:
Havn Labs – the huge opportunity where psychedelics are used medically to treat all kinds of mental health issues.
Havn Retail – Which is targeting a non-medical, natural, mental wellness micro-dosing therapies that will be sold directly to the public.  In other words a wellness health brand exactly like Neufeld built at Jamieson.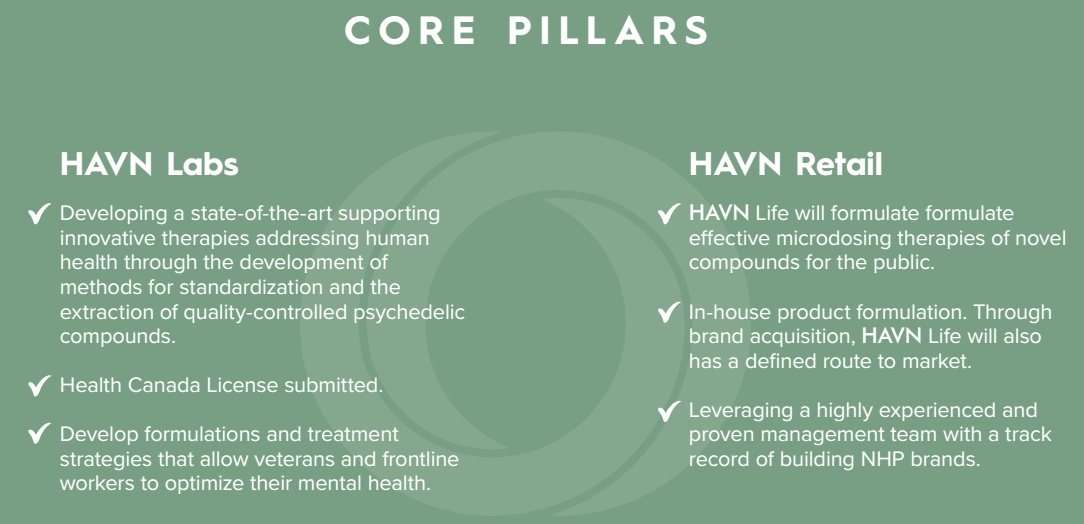 I told you about the advantage that Havn Labs has on the medical psychedelic front yesterday.  Havn Labs is the only company with a  Section 56 exemption to work towards becoming a supplier controlled psychedelic compounds.
These exemptions have to date only been granted to Universities and other researchers or to individuals for, typically, end of life alternative treatments.
That puts Havn a mile ahead of the competition.  The competition isn't even in the game yet!
The incredible success that psychedelic studies have seen with helping people with
depression,
PTSD,
addiction and
end of life anxiety
has spurred the next generation of studies.
More studies on psychedelics are being launched all the time.  Havn's Moore told me more than 140 of these studies that are now going on worldwide.
What all of these studies need but don't have is a natural source of psychedelics, specifically the psilocybin that is found in magic mushrooms.  As a controlled substance there simply is no supply. There is no existing supply chain of naturally derived psilocybin.
That means that as of today almost all of the studies being conducted are forced to use synthetic versions of the psychedelic.  The synthetic version is absurdly expensive and costs multiples more than the natural version.
With the only Section 56 exemption, HAVN has the inside track to becoming the supplier of choice for everyone in need.  Everyone using synthetic wants to have a natural source.  KA-CHING!!!!
Remember—psychedelics are a closely controlled substance.  While there are miraculous results coming from studies using them, this has to be done safely.   Government regulators will go slowly and carefully here.
There simply aren't going to be many companies granted approval to do this.  Everyone is on the same page and wants a safe and reliable supply chain.  Once regulators governing the supply and institutions using it are comfortable with the source—it will be nearly impossible to displace the psychedelic supplier.
Havn wants to provide the psychedelic compounds that academic institutions require.  The company is already well on the way to that goal.  There is a huge, protective, competitive moat being built around this business.
This is like betting on a horse race after the race has already begun.  Havn is the horse that is way in front so why would you bet on anyone else?
The numbers involved here are huge.  An estimated 11% of the people in the world have some form of mental ailment.  That means that there is more than 700 million people who could benefit from psychedelics.
The growth curve here–and the stock market response—will be just like what we saw with cannabis during the initial boom. 
 
Havn Retail Creates The Superior Business Model
 
Now, I could just end the story right there.  I think I've outlined an incredible team in a nascent industry that already has a head start.
And did I mention this company just got listed—that this is ground floor?
But there's more.  I've already told you how, at Jamieson Labs, Vic Neufeld built one of the most successful retail health brands in history. 
Havn is leveraging Nuefeld's knowledge and connections to do the same with a microdosing-focused-natural-health product that could help millions and millions of people.
Where psilocybin and psychedelic compounds are still controlled substances—other psychoactive compounds contained in mushrooms and other plants are not. 
These natural psychoactive compounds have also been use for many years to help people deal with anxiety, depression, panic attacks, OCD, anger management, sleep disorders and all kinds of other issues.
The plan for Havn Retail is to offer natural compounds for microdosing.
Microdosing is using a VERY small dose of a psychoactive compound that has a similar benefit to a full psychedelic–but allows the user have a normal day, go to work or whatever.
Havn's microdosing compounds are regulated as natural health products  and will be sold directly to the consumer—who will take it on a daily basis. That means a RECURRING REVENUE stream for Havn.
This is the superior business model that Havn has.  The company has Vic Neufeld to help them build a revenue producing, cash flowing retail health brand.
It also has the connections of CEO Moore who was at Clorox for 18 years and North America Brita for another 7 years.  Moore has called on every major retailer in North America.  The Havn team is an elite group when it comes to knowing how to build a branded business and deal with major retails.
Other psychedelic stocks are one-trick ponies that will need constant new capital. Havn meanwhile should quickly become a cash flowing business.
Havn has the best possible team behind it and is selling into a rapidly growing demand for natural mushroom wellness products.