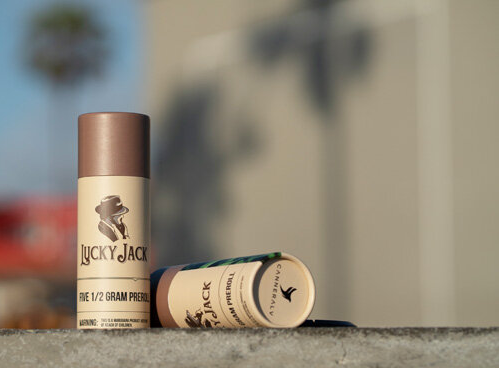 Icanic Brands' year-end financials released a couple days ago showed a big jump in revenue, but more importantly a big jump in EBITDA—and a big reason was their automated pre-roll machine I told you about on Oct. 29 https://investingwhisperer.com/automation-rapidly-lowering-costs-for-icanic/
Revenue fiscal 2020 ending Jul 31 was $7.9 million, but the big number was positive EBITDA (roughly equivalent to cash flow for all us non-accounting types) of just over $560,000.
That's what cannabis investors want now—positive cash flow.
In an interview after market on Tuesday, CEO Brandon Kou said there were three big factors in getting to positive cash flow:
By vertically integrating and growing their own product, their #1 input cost—flower—went from $1800/pound to just under $1100/pound
The new automated machine reduced their manufacturing cost (Kou says 2ndlargest input cost) by 50%
3.    The seven-person on the ground sales team kept their 380 California retailers stocked and in good communication
"I would say that we are able to, while utilizing the machine, almost cut our costs…let's call it conservatively in half," Kou said.
"And then I think almost as equally important is it helped us actually scale efficiently. The scaling component almost becomes invaluable. The cost thing is easy to measure, but the scaling component of not having to try to, let's say just double our workforce if we wanted to double output.
"For us, having this machine that can crank out units like a potential army of people is a huge win given that the machine does not have to social distance from anyone. We were able to actually, call it increase our output while decreasing our need for human capital. And I think that was invaluable, especially given the pandemic."
They're going to need that scale, as Kou says they are selling every pre-roll as fast as they can make it. To deal with that, they're
moving into a larger (2.5x) production facility in Concord CA, 20 miles from their old facility in Oakland.
Adding a second automated machine in 2021
Planning for a 2ndshift company wide sometime in calendar Q2 2021
In the press release Icanic didn't break out Q4 revenue, but a quick look to page 7 in the MD&A financial statements (do your research people!) showed $2.6 million, vs. $1.7 million in Q3—a big 52% jump.
Combine that with the lower costs from automation and vertically integrating helped Icanic to a 23% gross margin in fiscal 2020, but Kou says that really hides a huge leap in margin in the last two quarters.
He says the new automated machine only really kicked in towards the end of Q3. Plus they spent a big chunk of fiscal Q4 figuring out how to best use the machine.
"We were a cannabis company, so it's not like we were a technology company that was utilizing a new piece of technology," says Kou. "For us, it was a big shift from how we were doing things, and I think the end result will be that you'll just continue to see us get better and better, leveraging technology and leveraging everything else."
With almost all the learning curve behind them, Kou says investors can look more towards Q3-style gross margins in 2021—and Q3 was 44.8%!
"That's the trajectory for us, given everything that we have going on."
"Calendar 2020 was a year for building the foundation and getting the pieces in place. 2021 is going to be, now we're ready to go. We're going to be launching new SKUs in the first quarter of 2021. We're going to be moving to our new manufacturing facility in 2021. We're going to be bringing our Ganja Gold products to the Nevada market in the first half of 2021."
Icanic's Ganja Gold is one of the top selling California pre-rolls—but they mostly sell single, one gram pre-rolls. But in September in California, the one gram units only made up 29% of all the pre-roll sales. Half grams have become very popular in the California market and make up a big part of the remaining 71%.
So there is lots of organic sales growth potential!
But Kou says he also intends to get very aggressive on the M&A front. He has a long line of targets in downstream brands, midstream processing technology and upstream growing.
"We can really make those acquisitions and have them be very accretive day one." He says Icanic is already built for scale, and the existing team could easily handle the legal, sales & logistics for several brands, and use their dominant 380-store retail reach to improve sales immediately.
"The setup of growth has already happened," Kou concludes. "We have a seven person sales team across the state. We have all of the manufacturing managers and systems and SOPs already in place, right.
Our second machine is funded. So in many ways, our team has been somewhat underutilized, because we were building this foundation."
Kou says that Icanic's Q1 numbers will be coming out before the end of December. Shareholders have a lot to look forward to—much of it from the automated pre-roll machine I told you about on October 29.
Disclaimer: In the past 12 months, Icanic Brands has been a paying client of the OGIB Corporate Bulletin, a sister-service to Oil and Gas Investments Bulletin and Investing Whisperer.