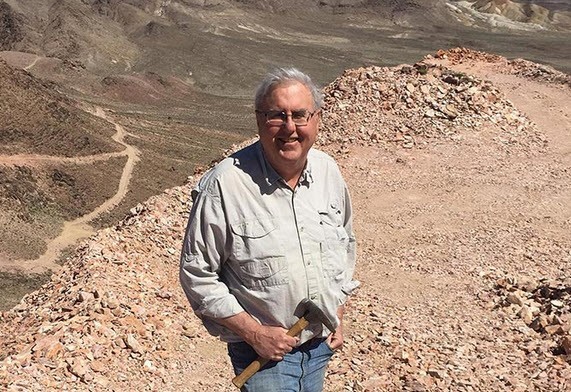 That's Why Insiders Have Bought Nearly NINE MILLION SHARES In The Open Market!!!
Allegiant Gold (AUAU: TSXV) is the Nevada junior gold miner that has seen insiders relentlessly acquire 11.5 MILLION SHARES (and almost 9 million in the open market) of the company over the past 12 months.
And who would blame them? They are buying the cheapest million ounces of gold in the ground in Nevada BY FAR—look at this chart:

By spending their own hard earned money, Allegiant Gold insiders have been sending a screaming buy signal to the Market. The stock would have to go up over 500% Just to get to the average peer valuation of Nevada gold explorers with roughly 1 million ounces of 43-101 compliant gold.
So first you have huge insider buying. Second you have 1 million 43-101 compliant ounces already with their flagship Eastside property in the Walker Lane trend of SW Nevada. Third you have the cheapest million ounces in Nevada—BY FAR.
Fourth—you have Andy Wallace. 
Andy Wallace was personally the lead man on FIVE separate discoveries of more than 1 million ounces in Nevada. This is an INCREDIBLE resume:
This man has discovered and built mines for decades—and enriched shareholders along the way.
Wallace is convinced that he has a sixth major Nevada gold discovery with Allegiant Gold's Eastside project.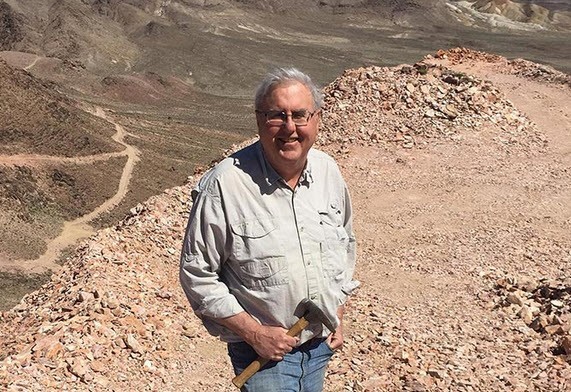 When I spoke with Wallace his exact words to me were:
"Being 73 years old I didn't really think I would find anything this big this late in my life……so big that I may not be able to see how it all comes out.
That's all in my mind. So, I want to get as much done as possible while I can."
This is a man who chooses his words carefully and with nothing left to prove to anyone. 
A Huge Asset For A Tiny Company
12 Months Of Catalysts Coming
Insiders have been buying shares of Allegiant hand over fist for the past 12 months.  Now that they have loaded up, the company is ready to provide a steady stream of catalysts to drive those shares higher.
The source of the catalysts will be a non-stop, 12-month drilling program that is kicking off this month at their Eastside Gold Project, in the prolific Walker Lane trend of southwest Nevada.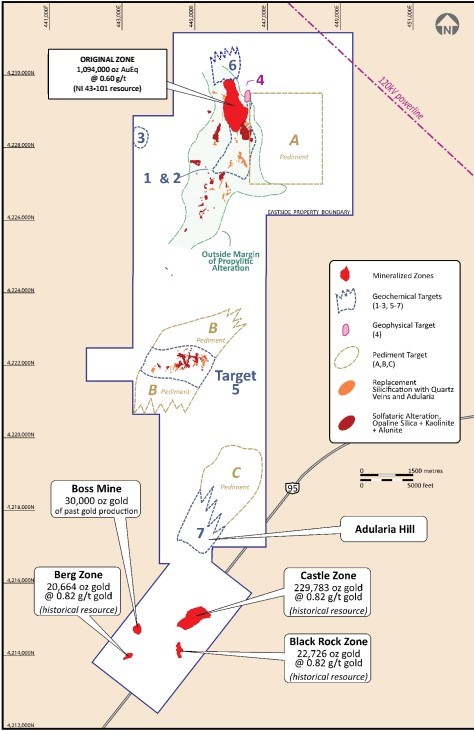 Allegiant already has 1.1 million NI 43-101 compliant ounces of gold equivalent at Eastside (996k gold, 7.8 M oz silver), but Andy Wallace thinks it is going to be much bigger.
All of that resource is recorded at the Original Zone in the north–which is still open in every direction! It's open to the south, north, east, west and at depth. This is just my opinion, but I strongly believe the Original Zone resource will grow.
But the Original Zone is just one part of Eastside. If you start looking over this massive land package it isn't hard to see how the potential for this company is MUCH MUCH more.
There are four other historic discoveries on the property with resources that aren't included in Allegiant's 1.1 million AuEq NI 43-101 numbers. 
Just by adding together the historic resources of approximately 272,000 gold ounces (established at much lower gold prices) at the Castle Zone (Boss Mine and Berg, Castle and Black Rock zones) you can easily see where another several hundred thousand ounces will come from.
With just a minor amount of drilling success and using a gold price of almost $2,000 per ounce into resource estimates—a much larger resource requires no stretch of the imagination. 
There are no guarantees of course, but I'm just logically connecting the dots.
And get this—only 10% of this property has been explored. There's already 1 million ounces of 43-101 compliant gold, and another 270,000 oz historical ounces Au Eq–on only 10% of the property.
Allegiant has other exploration targets on Eastside including Five, Andularia and Pediment A that have been identified and can expand the project resource further.
This will now happen fast. Allegiant plans to drill over 15,000 meters over the remainder of 2020 and early part of 2021 to test additional targets outside the Original Zone including the Castle/Boss Zonesat the south part of Eastside.
But folks—look again at that first chart I showed you. This stock could be 500% higher and still be barely at the peer group average valuation. That's the kind of risk/reward I like, and one of the main reasons why I'm long.
Here is that chart again:

(Yesterday morning, it would have had to be a NINE BAGGER!)
And the icing on the cake? Joint venture partners are cashing up Allegiant this year with $2,094,861 in property payments —that's hard cash coming into the Allegiant treasury!
On top of that, those companies are spending over $3.2 million to drill Allegiant properties.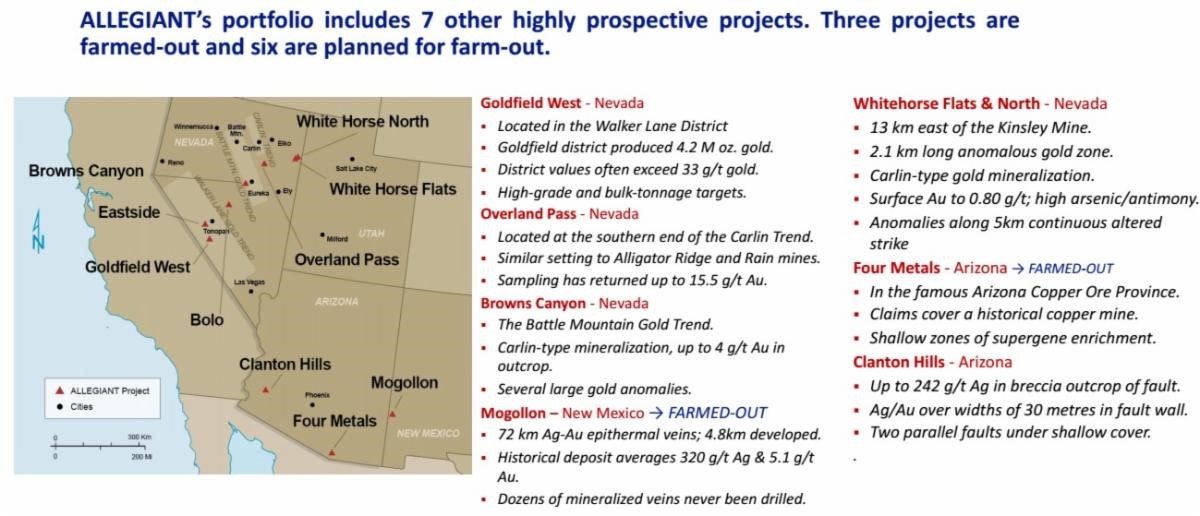 Always follow the smart money and no money is smarter than insiders.
The Market Loves Nevada
And It Loves Big Resource Numbers
Nevada gets the highest valuation per ounce of gold in the ground in the world—and rightly so. So even after the Market plays catch up with Allegiant's valuation–and it would still take a five-bagger increase just to get there–there is a lot more upside with any further drilling success.
And there is going to be a lot of drilling.
Not only is Andy Wallace and his team drilling 13,000 to 15,000 meters at Eastside……but Allegiant's farm-in partners will also be drilling at Bolo, at Clanton Hills and at Mogollon.
Any success here will be richly rewarded—but investors don't need ANY to see a huge win in the stock—even if AUAU just trades at peer valuations!
I want to tell you one more very important thing, which I saved for (nearly) the end.
I've had some of the biggest, high profile successes in the entire junior mining sector this year. Prime Mining went from 50 cents to $2. Fosterville South from 90 cents to $5. Vizsla Resources from 40 cents to $2.80. Kodiak Copper from 45 cents to $1.90.
At the time I wrote them up–none of those plays had what Allegiant has now. They were management bets, and they all delivered the goods. But at the time, they were all dreamers.
This company has a HUGE head start on all of them, with
– 1 million ounces 43-101 compliant resource
– at the cheapest valuation I see today–a 5-bagger just to catch up!
– a legend with FIVE other multi-million ounce gold discoveries in Nevada
– other companies paying the freight
When I think of how well those stocks did, I get VERY excited about what can happen here.
Last Point–I am the first person to write up this story; to give it an audience. Before me, only the insiders were buying the stock. And with good reason.
The last thing that Andy Wallace told me was that his big regret is that he thinks that Eastside is going to turn out to be such a huge discovery that it will take decades to see it fully developed…..and that he won't be able to see how big it eventually gets.
That is why the push is on for Allegiant to grow this company as fast as possible.
That push happens now.
Allegiant Gold has reviewed and sponsored this article. The information in this newsletter does not constitute an offer to sell or a solicitation of an offer to buy any securities of a corporation or entity, including U.S. Traded Securities or U.S. Quoted Securities, in the United States or to U.S. Persons. Securities may not be offered or sold in the United States except in compliance with the registration requirements of the Securities Act and applicable U.S. state securities laws or pursuant to an exemption therefrom. Any public offering of securities in the United States may only be made by means of a prospectus containing detailed information about the corporation or entity and its management as well as financial statements. No securities regulatory authority in the United States has either approved or disapproved of the contents of any newsletter.
Keith Schaefer is not registered with the United States Securities and Exchange Commission (the "SEC"): as a "broker-dealer" under the Exchange Act, as an "investment adviser" under the Investment Advisers Act of 1940, or in any other capacity. He is also not registered with any state securities commission or authority as a broker-dealer or investment advisor or in any other capacity.