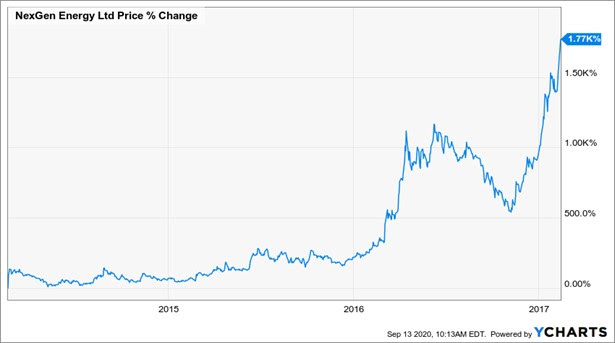 Summa Silver (SSVR: CSE / SSVRF-OTCQB)
 is my #2 Silver Pick of the Year—because it has all the pieces for success. 
1.   Proven management—CEO Galen McNamara led most of the early drilling at NexGen Energy, and the team made one of the largest uranium discoveries ever made. McNamara's team won the Bill Dennis Award as Prospector of the Year, THE most prestigious award in the mineral exploration industry for a Canadian discovery. AND–Vizsla CEO Michael Konnert is on the board. Vizsla was my first silver pick–and it jumped 500% in weeks! 
2.   Nevada play so it is in a great jurisdiction 
3.   Ground floor play—first drill program in progress 
4.   Neighboring Blackrock Gold Corp hit 29 meters of 965 g/t AgEq only 300 meters from the border with Summa's Hughes property. 
5.   The old Belmont Mine on their property was one of America's great silver producers in the 1910s and -20s—but no modern exploration—until now. 
6.   Financed with $9 million cash means they could continue drilling non-stop if they make a discovery 
Of course I have to treat this as a speculative play, but honestly, this couldn't get much easier. Great team. Big land package. High grade discovery right beside you with 3D imaging showing the vein goes onto your property. Summa Silver has millions in the till 
and they are drilling right beside Blackrock's border right now!
McNamara has an incredible nose for discovery. He and close friend Garrett Ainsworth played instrumental roles in the discovery of a lot of high grade uranium at the Arrow Deposit–a massive, high grade deposit that lay hiding under the edge Athabasca Basin in Saskatchewan.
This deposit is so big that McNamara's team literally changed the fundamentals of one of the world's most integral resources. And it sat under the noses of all the other uranium producers and explorers for decades.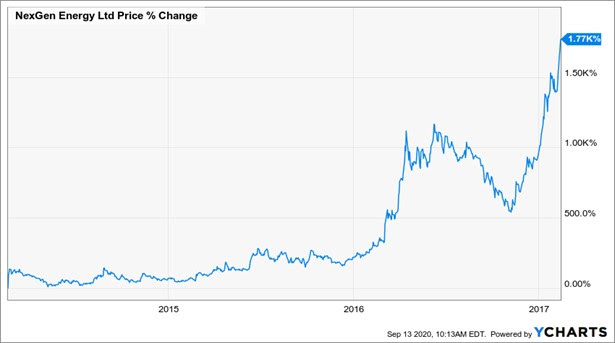 After NexGen, McNamara could have done anything, but he likes silver.
And that's why Michael Konnert, of Vizsla Resources, joined Summa. He knows silver as well, and he just gave his shareholders a recent big win with his discovery in Mexico.
 
We have two aggressive young CEOs in the industry here, in a company with less than 60 million shares out. There's $9 million in the treasury—which means they are ready to keep drilling
 
And the Company is in the middle of its first drilling program. Here's how it all came together:
 
Before silver got hot this spring, McNamara was sleuthing around Tonopah Nevada—the heart of one of the old Nevada Silver districts. He knew what he wanted
 
1.   District size play
2.   Former producer (the Tonopah district produced 175 million ounces!!)
3.   No modern exploration
 
You might think that's easy in Nevada, but there are literally thousands of old mineral title holders who won't let go of their claims.  McNamara came across a group who had interesting silver grades in tailings, and were looking at a small scale mining operation.
 
There was almost no competition—everybody in Nevada wants gold! But McNamara was thinking outside the box, just like he was at NexGen when he worked on Arrow. He was able to stake a lot of claims himself, and get the deal done with tailings owners.
 
There are multiple high priority drill targets now being tested. McNamara was able to move so quickly because not only did he get a huge land package, he was able to source an incredibly detailed historical mine plan at the Belmont Mine.
 
So with the drills turning now, I could tell you—it's up to God now.
But He's already showed us what's there!!!
 
Not only does the old Belmont Mine have well over 1 kilo per ton silver per ton and widths up to 15 meters in historical records…the next door neighbor hit 29 meters of 965 g/t AgEq–with an additional 3 meters of 2198 g/t–over 2 kilos per ton silver—just 300 meters from Summa's property line!!
 
Here's the map that shows their hole—over to the left, and Summa's drill targets: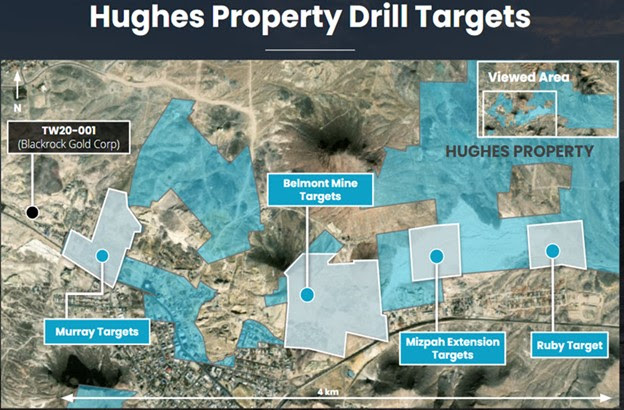 There is a wealth of information on this land that dates back to the 1930s from an old USGS geologist who mapped the entire district underground by hand.
 
His old mapping–along with modern 3D modeling–points to the possibility of veins on both sides of the boundary. I want to stress possibility!!
 
The Blackrock results did not surprise the Summa Silver team. McNamara and crew haven't just 3D mapped their Tonopah property…..they have mapped the entire region.
 
He told me that if he had controlled the Blackrock property that is exactly what he would have been drilling.
 
That is why he is now drilling Summa's property 300 meters to the east.
 
Look, I can't TELL you that Summa is going to hit any high grade intercept. All I can do is tell you why I am long the stock. I think I've painted a pretty compelling picture here.
 
I've listed what I think are all the right ingredients—the right team, a good share structure, the right play, the right market—that can greatly reward shareholders with a discovery.
 
That's why Summa Silver is my Second Silver Pick of the Year. 
 
Drilling started way back in July, so it's only reasonable to assume early results will be coming in soon.
 
I'm ready.
Summa Silver has reviewed and sponsored this article. The information in this newsletter does not constitute an offer to sell or a solicitation of an offer to buy any securities of a corporation or entity, including U.S. Traded Securities or U.S. Quoted Securities, in the United States or to U.S. Persons.  Securities may not be offered or sold in the United States except in compliance with the registration requirements of the Securities Act and applicable U.S. state securities laws or pursuant to an exemption therefrom.  Any public offering of securities in the United States may only be made by means of a prospectus containing detailed information about the corporation or entity and its management as well as financial statements.  No securities regulatory authority in the United States has either approved or disapproved of the contents of any newsletter.
Keith Schaefer is not registered with the United States Securities and Exchange Commission (the "SEC"): as a "broker-dealer" under the Exchange Act, as an "investment adviser" under the Investment Advisers Act of 1940, or in any other capacity. He is also not registered with any state securities commission or authority as a broker-dealer or investment advisor or in any other capacity.