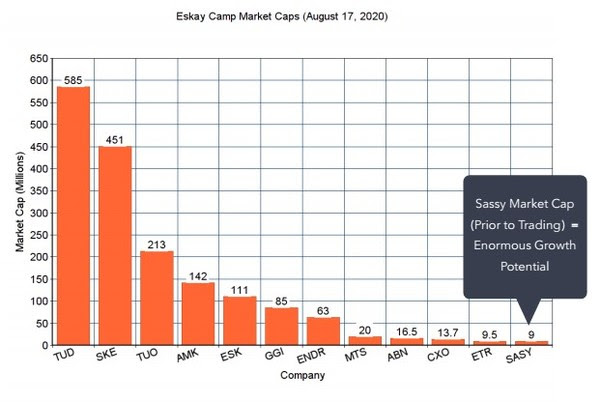 Sassy Resources Corporation (CSE:SASY) is the Golden Triangle – Eskay Camp junior miner that could have a major high grade gold discovery inside a 30 million share company—all because of global warming. 
Retreating glaciers and snowpack have opened up a huge patch of virgin ground for exploration—almost in the exact center of the Golden Triangle.
 
This is one of the hottest gold plays in the world this year.  Skeena Resources (SKE-TSX) has gone from 45 cents to $3 rejuvenating the old Eskay Creek Mine itself.  (Calpine Resources that discovered the Eskay Mine in the 1980s went to $72!!) Teuton Resources (TUO-TSXv) has gone from 30 cents to $4.50 on their discovery.  So the Market LOVES this area—and has shown it rewards real discoveries.
Sassy's potential discovery got a lot closer last week as management released surface samples grading as high as157 grams per tonne—over 5 OUNCES.
In the autumn of 2019, prospectors found an 80-meter quartz vein right at the edge of where a glacier recently sat.  The whole area—previously under a glacier and snowpack—had no work done on it.  But there was obvious and large rock alteration at surface.
When the assays came back at 4 OUNCES per tonne on that rock—management couldn't wait to get back sampling and drilling in 2020.
They started in late June this year, taking three weeks to build the camp and prepare the drill pads—they literally RAN out into the field, eager to take dozens more samples.
CEO Mark Scott says they hit paydirt on the first day of prospecting around where the snowpack used to be, finding many more high-grade samples—so high grade they had to get them checked again!
That's what took so long getting news out.  But with the October 1 press release, Scott and Sassy told the world three things:
There are lots of high grade samples in a 400m x 400 m area
They see the same alteration in core from deep underground,
The first hole is already in at the lab for assay.
The reason I'm bringing this story to you NOW is simple.  It is very rare to get a large virgin-ground package (never been prospected) in a well explored, well-known, high-grade gold camp.
That's what Sassy has with their Westmore target on their Foremore property in the Golden Triangle. 
Remember, here's what this property looked like 35 years ago:
 
And here's what it looks like now:
 
You can see how much difference there is—especially in the Westmore showing in the bottom left corner, where CEO Mark Scott and his team are now working.
Previous owners of Foremore were looking for base metal rich VMS deposits.  The Sassy team is the first group looking at this ground—newly laid bare from rapidly retreating glaciers—for high grade gold.
And EVERYTHING we see right now says the property has a great chance to become a discovery—within weeks from now!  It just depends how quick the assay labs come back with results from the first hole. This area has NEVER been drilled—hidden under ice sheets for hundreds and probably thousands of years.
If they do hit a high-grade gold intercept over several meters, the valuation creation in a stock with only 30 million shares out would be—a lot. 
But folks, this is still exploration.  Anything can happen.  Now, in the October 1st  press release, management DID SAY they had visible gold (VG) in the core, and that the alteration that they saw at surface (which assayed as high as 5 OUNCES gold per tonne) was present in the core that came from 270 m depth.
That's a bit promotional, I'll give you that.  Until you meet CEO Mark Scott.
I had dinner with Scott last week.  He's solid.  He rose up through ranks at Vale/Inco and was head of operations in Thompson Manitoba, overseeing 1,800 people and a budget of more than half a billion dollars.
You don't manage a budget with that many "zeroes" without extreme competency.

Now at Sassy, Scott runs a business with a $30 million market cap and a team that fits into his SUV.
How does a tiny junior miner attract an overqualified CEO?
 
Simple — present him with an unusually attractive opportunity like this high-grade Eskay Creek Golden Triangle grassroots gold project. 
At dinner I asked him—why Sassy? A man with his experience can write his own ticket. 
He was referred to Sassy by a technical friend of his, and Scott then met with prospector Michael Middleton, who has a long history at Foremore and in the Golden Triangle. 
They talked geology and logistics all day—and Scott came away convinced the property had a great chance at being a major discovery.  He cut a deal to become CEO and have a big equity position.
Remember, he would have had a BIG salary heading up Vale's Thompson operations!  This CEO is not here for a paycheck.  He's here for the same reason you and I are.
The opportunity in front of Scott is to turn Sassy into a high-grade Eskay Camp gold success story.  Scott put together a "comp sheet"; comparable companies in The Golden Triangle with gold discoveries: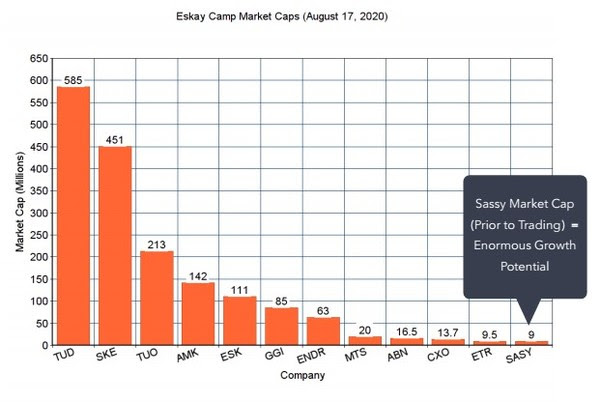 That is the size of the prize in this neck of the woods.  That is what attracts a CEO with a resume like this to a tiny company. By the way, Sassy is now a $30 million market cap.
So far things couldn't possibly have worked out better for Scott
Step 1 – Find high-grade gold rock sitting at the surface on undrilled land
Step 2 – Get successful confirmation of that over a 400m x 400m area
Step 3 – Have gold prices driving up towards $2,000 per ounce
Step 4 – Perform follow up drilling in record time
That is where Sassy Resources sits today.
Everything is going as well as it possibly could so far—with the biggest news in the company's short history now imminent. 
It's a large section of un-explored ground in one of the hottest gold plays in the world right now. And there are only 30 million shares out.
You know the risks in this business.  The odds of success in this game aren't high, but the payoff most definitely is. 
Sassy Resources Corporation management has reviewed and sponsored this article. The information in this newsletter does not constitute an offer to sell or a solicitation of an offer to buy any securities of a corporation or entity, including U.S. Traded Securities or U.S. Quoted Securities, in the United States or to U.S. Persons. Securities may not be offered or sold in the United States except in compliance with the registration requirements of the Securities Act and applicable U.S. state securities laws or pursuant to an exemption therefrom. Any public offering of securities in the United States may only be made by means of a prospectus containing detailed information about the corporation or entity and its management as well as financial statements. No securities regulatory authority in the United States has either approved or disapproved of the contents of any newsletter.
Keith Schaefer is not registered with the United States Securities and Exchange Commission (the "SEC"): as a "broker-dealer" under the Exchange Act, as an "investment adviser" under the Investment Advisers Act of 1940, or in any other capacity. He is also not registered with any state securities commission or authority as a broker-dealer or investment advisor or in any other capacity.