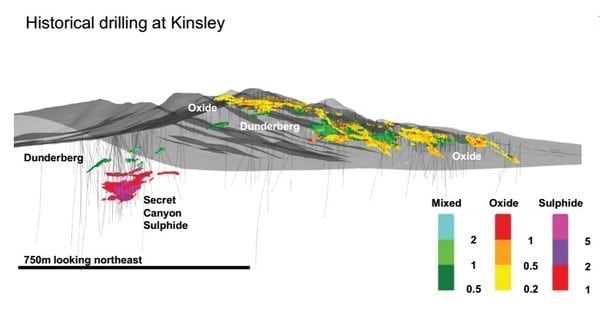 New Placer Dome (NGLD: TSXV) is the junior gold miner with a Nevada double shot —— not one, but two company making assets. 
This is a market where a good drill result–witness Vizsla, the last stock pick I sent you–makes a stock like that go up 500% in a week or two.
NGLD has TWO advanced stage assets, with both assets in Nevada, both with big resource potential like I see in Vizsla.
And NGLD has a full treasury that will see both assets drilled in the coming weeks. Three drill rigs, two advanced stage asset, in one micro-cap company.
"Advanced stage" means they KNOW where the gold is–recent drilling has outlined that. This summer we find out how big and how high-grade they are.
The extra potential of this double shot would explain why the company attracted so many top tier mining investors. The shareholder roll is like a "who's who" of gold mining smart money.
It would also explain why CEO Max Sali and his family invested $1 million of their own cash in the latest financing. You don't see that every day in the mining business. Getting that much cash from the CEO's family tells you everything you need to know about the upside potential.
New Placer Dome is cashed up — they just raised over $12 million. It has a very low market cap. Behind the scenes, the company is supported by some of the biggest legends in the business, deep in the background guiding this double shot. 
The market wants quality junior gold deals right now and it is going to love this one. You can already see the stock price moving.
No company in the junior gold mining sector can match New Placer Dome Gold for near term catalyst potential. THREE drill rigs are going to be running immediately and the news flow is going to be coming fast and furious. The market is eating up good news from miners now……I'm literally losing count of the doubles in my portfolio in 2020.
 
The Market Rewards Nevada Operators Like No Other
New Placer Dome has exactly what the Market wants–TWO big opportunities in Nevada. Nevada is the best mining jurisdiction on the planet. A discovery in Nevada has the lowest bar for success because much of the gold is oxide, which can be heap leached. 
There are operating gold mines in Nevada that are making money by finding one third of a gram of gold—half your pinky fingernail—in a ton of rock,. A ton of rock would be smaller than the average desk.
IF they find over a gram, it's a literal gold mine.
Mark my words if Max Sali and his team make TWO discoveries in Nevada —in this gold market this the stock of the year. 
That is saying something given that I'm already sitting on 5-baggers from Fosterville South (FSX-TSXv) and Prime Mining (PRYM-TSXv), plus a near 10-bagger from Vizsla Resources (VZLA-TSXv). 
This is a bull mining market and discoveries GET REWARDED…..
I wrote to you about Vizsla earlier this year. Here is what it has done just since the start of June on news.
Nevada discoveries get rewarded more than any others. The companies and assets in the jurisdiction have the highest valuation per ounce, and with New Placer Dome's tight float—there is exponential upside with drill bit success. 
Like no other company I see out there.
The state of Nevada IS American gold production. Nevada produced 5.58 million ounces of gold last year alone which is 83% of American gold production.
By itself the state is the fifth largest gold producer in the world behind China, Australia, Russia and Canada.
The state is home to multiple 20 plus million ounce gold deposits. It has everything a junior miner could want:
Transparent, predictable and established permitting rules/guidelines
Major infrastructure, over 22 processing facilities
Easily accessible assets by highways and workable all year
The search for gold is much more than finding the right rocks. The rocks matter, but so do politics, infrastructure, access, workability, and costs. Nevada ticks all of those "other" boxes and has the rocks.
Fraser Institute ranks Nevada as the best location on its investment attractiveness index and recent notable successes by Nevada juniors has resulted in buyouts and investments by majors.
The gold market is hot. Nevada is hot. And New Placer Dome Gold is now starting to make news when everyone is watching.
Nevada Pure Play – Exploring For Carlin Type Deposits
The New Placer Dome Nevada double shot comes from two assets (Bolo and Kinsley Mountain) both of which are Carlin-type projects.
The Carlin Trend is legendary. This tract of land, just 5 km wide and 60 km long, hosts more than 40 separate gold deposits — 26 of which have been developed into mines.
Carlin deposits are often big. The 26 mines of the Carlin Trend have to date produced more than 84 million ounces of gold and reserves still exceed 31 million ounces.
The Carlin is the highest concentration of multi-million-ounce gold deposits on the planet. All the major gold companies are active in the trend. And they want to stay active there as long as possible, which means new discoveries are highly desired.
Find something here and you can monetize it quickly AND for premium dollars.
Take the Long Canyon discovery – after discovering Carlin-type gold at its Long Canyon project in Nevada, Fronteer Gold was taken out by Newmont for $2.3 billion.  Ka-Ka-Ka…..CHING!
Carlin deposits only form when a few factors line up. 
The right kind of carbonate rocks have to be cut by the right kinds of structures and an active, gold-bearing hydrothermal system has to have welled up through those structures.
When these factors line up, a Carlin gold deposit forms. Both of New Placer Dome Gold assets have this!!
That is why if this team makes one decent discovery this stock is off to the races.
New Placer Dome Nevada Shot #1 – Kinsley Mountain
Kinsley Mountain is a past-producing, Carlin-type project that New Placer Dome acquired from Liberty Gold Corp.
It is located 90km to the south and on the very trend of the producing Long Canyon gold mine that Newmont purchased for $2.3 billion.
Kinsley Mountain had a high grade Western Flank discovery in late 2013 with indicated resource of 302,000 ounces grading 6.11 g/t gold….. that is extremely high-grade for Nevada.
A prior owner of Kinsley Mountain raised a bunch money and spent almost all of it drilling oxide deposits near the surface. Then at the very end of their run as they ran out of money they drilled deeper and found much higher grade in the Secret Canyon Shale.
The prior operator had been chasing the wrong prize — they should have been drilling deeper all along. But it was too late, they had run out of cash and with the gold market in the doldrums raising capital wasn't going to happen.
Now New Placer Dome Gold has the project, has the cash and has a gold market that is ready to reward success. If New Placer Dome drills down in Secret Canyon and posts a single drill result with the same grades as this prior hole…in this market that news is going to make some noise!
Only a small amount of this property has been explored. The first high grade area–the Western Flank Zone–has been discovered. There is a big area at Kinsley to still go drill–where different mineralizing events cross cut each other–the best geological set up!
Kinsley Mountain has a newly updated gold resource estimate published in February 2020 that indicated 418,000 ounces grading 2.63 g/t gold (4.95 million tonnes)
On its own, this is a homerun asset. But like I said New Placer Dome Gold is a Nevada double shot.
New Placer Dome Nevada Shot #2 – Bolo
Bolo is in the middle of Nevada, which puts it immediately south of the famous Carlin Trend. The trend has the highest concentration of Carlin-type deposits but this kind of mineralization exists across Nevada if you know what to look for:
Northerly-trending structures
Altered carbonate rocks with jasperoids, sanded textures, barite, decalcification, silicification, and brecciation
Associated antimony, arsenic, barium, and -_
Low base metal concentrations
Bolo has all of these features.
The property has the exactly right rocks and those rocks are cut by two parallel north-trending fault structures. This is a Carlin setup to a tee.
The main Mine Fault has been tracked for 2,750 meters with sample results as high as 8.6 g/t gold. The parallel East Fault is almost as long as 2,200 meters and has generated samples as high as 4.7 g/t gold, despite having seen much less work.
Soil samples, rock and chip samples, and trenches by several iterations of explorers have returned widespread gold at surface.
Half a million dollars was spent drilling Bolo in 2019. That drilling hit on every single hole with grades that were the top 2% of all drill holes in Nevada in 2019 out of any junior mid-tier or senior.   
More exploration drilling will be done at Bolo this summer. 
If that goes as expected you can expect to see a first resource report on the project. That would be yet another catalyst to add to the news that is going to be coming from having 3 rigs churning out updates from drilling.
Bolo has ALL the right signs from previous work to host a major Carlin-style gold deposit, but the property has not had enough dedicated exploration attention.
In 2020 it will.
Company Specific Catalysts And A Red Hot Gold Market
The New Placer Gold story is simple and I love it.
From a very small market cap this team is developing TWO very high quality, advanced stage assets in the most highly coveted gold mining jurisdiction on the planet.
I want to repeat–they KNOW where the gold is. There's a resource already on one asset and they are close on another. They have an aggressive drill program backed by the recent $12 million financing and three rigs.
More importantly they are going to be making more drilling news than any other miner in the coming weeks and months.
Successful gold discoveries in Nevada receive the highest valuation per ounce anywhere in the market and in buyouts.
If either of these assets hit, this stock is gone. I mean gone. On speculative anticipation of news alone I see this stock continuing to run.
The timing here is exceptional — a steady stream of catalysts being released into the hottest gold market in decades.
I am thinking this year's drill program tips each asset into an economic deposit–that's the leverage here. There's already lots of gold here–but this year's big program could make them bigger and over the threshold.
The Big Home Run here is in making an economic deposit–and they're close. The set up is exactly right. Nevada is best place to be. Shareholders have two high quality assets and a treasury full of cash. 
One set of good drill holes and my next Big Winner of 2020 is HERE.
Technical Reports
Technical Report and updated estimate of mineral resources on the Kinsley Project, Elko County, Nevada, U.S.A., effective January 15, 2020 and prepared by Michael M. Gustin, Ph.D., CPG, Moira Smith, Ph.D., P.Geo. and Gary L. Simmons, MMSA is available under New Placer Dome Gold Corp.'s Issuer Profile on SEDAR (www.sedar.com).
Technical Report on the Bolo Property, Nye County, Nevada, USA, dated effective October 5, 2018 and prepared by Nancy J. Wolverson, C.P.G. is available under New Placer Dome Gold Corp.'s Issuer Profile on SEDAR (www.sedar.com).
Forward-Looking Information
This report includes certain statements that constitute "forward-looking information or statements" within the meaning of applicable securities law, including without limitation, conducting exploration work on various projects, expand the resources, other statements relating to the technical, financial and business prospects of New Placer Dome and its properties, and other matters. Forward-looking statements address future events and conditions and are necessarily based upon a number of estimates and assumptions. These statements relate to analyses and other information that are based on forecasts of future results, estimates of amounts not yet determinable and assumptions of management. Any statements that express or involve discussions with respect to predictions, expectations, beliefs, plans, projections, objectives, assumptions or future events or performance are not statements of historical fact and may be forward-looking statements. Forward-looking statement are necessarily based upon a number of factors that, if untrue, could cause the actual results, performances or achievements of the Company to be materially different from future results, performances or achievements express or implied by such statements. Such statements and information are based on numerous assumptions regarding present and future business strategies and the environment in which the Company will operate in the future, including the price of metals, anticipated costs and the ability to achieve goals, that general business and economic conditions will not change in a material adverse manner, that financing will be available if and when needed and on reasonable terms, and that third party contractors, equipment and supplies and governmental and other approvals required to conduct the Company's planned exploration activities will be available on reasonable terms and in a timely manner. While such estimates and assumptions are considered reasonable by the management of the Company, they are inherently subject to significant business, economic, competitive and regulatory uncertainties and risks. Forward-looking statements are subject to a variety of risks and uncertainties, which could cause actual events, level of activity, performance or results to differ materially from those reflected in the forward-looking statements, including, without limitation: (i) risks related to gold and other commodity price fluctuations; (ii) risks and uncertainties relating to the interpretation of exploration results; (iii) risks related to the inherent uncertainty of exploration and cost estimates and the potential for unexpected costs and expenses; (iv) that resource exploration and development is a speculative business; (v) the possibility that future exploration, development or mining results will not be consistent with the Company's expectations; (vi) risks related to current global financial conditions; and (vii) other risks and uncertainties related to the Company's prospects, properties and business strategy. These risks, as well as others, could cause actual results and events to vary significantly. 
New Placer Dome has reviewed and sponsored this article.The information in this newsletter does not constitute an offer to sell or a solicitation of an offer to buy any securities of a corporation or entity, including U.S. Traded Securities or U.S. Quoted Securities, in the United States or to U.S. Persons. Securities may not be offered or sold in the United States except in compliance with the registration requirements of the Securities Act and applicable U.S. state securities laws or pursuant to an exemption therefrom. Any public offering of securities in the United States may only be made by means of a prospectus containing detailed information about the corporation or entity and its management as well as financial statements. No securities regulatory authority in the United States has either approved or disapproved of the contents of any newsletter.
Keith Schaefer is not registered with the United States Securities and Exchange Commission (the "SEC"): as a "broker-dealer" under the Exchange Act, as an "investment adviser" under the Investment Advisers Act of 1940, or in any other capacity. He is also not registered with any state securities commission or authority as a broker-dealer or investment advisor or in any other capacity.