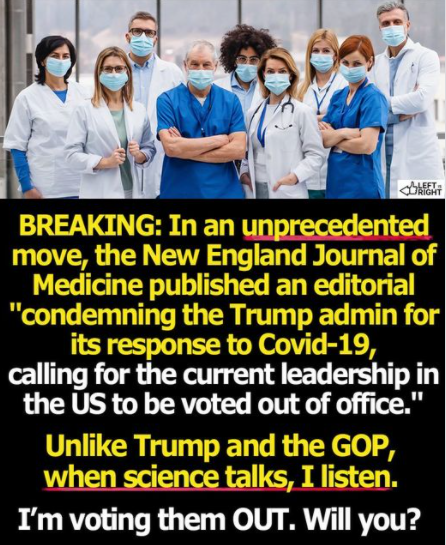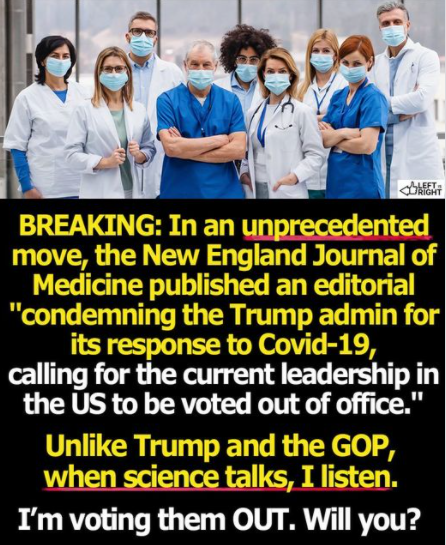 The New England Journal of Medicine, which began publishing in 1812, took the unusual step of making a political comment.
From this:
In an unprecedented move, the New England Journal of Medicine on Wednesday published an editorial written by its editors condemning the Trump administration for its response to the Covid-19 pandemic — and calling for the current leadership in the United States to be voted out of office.
"We rarely publish editorials signed by all the editors," said Dr. Eric Rubin, editor-in-chief of the medical journal and an author of the new editorial.
"This crisis has produced a test of leadership. With no good options to combat a novel pathogen, countries were forced to make hard choices about how to respond. Here in the United States, our leaders have failed that test. They have taken a crisis and turned it into a tragedy," the editorial says.
It does not endorse a candidate, but offers a scathing critique of the Trump administration's leadership during the pandemic.
"Anyone else who recklessly squandered lives and money in this way would be suffering legal consequences. Our leaders have largely claimed immunity for their actions. But this election gives us the power to render judgment," the editorial says. "When it comes to the response to the largest public health crisis of our time, our current political leaders have demonstrated that they are dangerously incompetent. We should not abet them and enable the deaths of thousands more Americans by allowing them to keep their jobs."
It appears that COVID-19 will be what brought Trump down.  The United States couldn't agree on things like locking children in cages, or inciting racial violence, or that 22,000 lies from the president is a bad thing, but it looks like we can understand that a country with 4.25% of the world's population shouldn't have 21% of its deaths.
Trump's buffoonish behavior, getting more erratic by the day, probably hasn't helped either.  Before 9:30 this morning, he had sent out 30 tweets and retweets, promoting bizarre conspiracy theories and making ridiculous claims, e.g., "The Democrats want to close your churches.  Permanently." After all this, it looks like part of his base is uncomfortable with a demonstrably insane president.
As we near the election and Trump continues to melt down and become more desperate, be prepared for histrionics never before experienced by the land of the free and the home of the brave.