K2 Gold (KTO: TSXV / KTGDF-OTCQB) is the gold exploration company—that is now drilling one of Chris Taylor's long-time favorite gold exploration projects.
It's called the Mojave Property, where the surface rocks are highly altered continuously, for kilometers.  And high-grade oxide gold trenches and surface samples are getting both management and investors excited about a potential discovery.
I do want to stress—potential discovery.  There are some incredibly positive signs at Mojave—high grade trenches of 4 g/t++ over tens of meters, and 35 drill holes that hit mineralization—but until the first set of drill results come back from K2, it's still a potential discovery.
Taylor has shown investors this year that he has an incredible nose for good projects—witness both Great Bear and Kodiak Copper.  The first set of drill results on K2's Mojave property are expected before Christmas.
Overseeing the drilling here for K2 Gold is Chairman John Robins and CEO Stephen Swatton, who was formerly Global Head of Business Development for BHP Billiton's Exploration Division—a huge global miner.
Swatton negotiated with all the juniors for BHP for years.  It was Swatton who convinced the prospector who owned the claims to work with K2.  (Interestingly, Mojave was BHP's last remaining gold property in North America before exiting gold exploration and mining worldwide.)
Robins and his Discovery Group are serial creators of junior mining wealth. 
Robins was the founder of Kaminak Gold, which sold the multi-million ounce Coffee gold deposit to Goldcorp for $520M in 2016.   He was on the board of Northern Empire that sold to Coeur Mining in 2018 for another $117 million.
Find, drill, develop, monetize repeat……
This team of exploration heavy hitters understand the geology at Mojave very well now. Thirty-five drill holes were completed by Newmont (1980s) and BHP (1997) and every hole hit mineralization.
As both Robins and Taylor explained to me…..a simple trip to the project makes the opportunity abundantly clear.  You can walk for kilometers and kilometers and the visible alteration is everywhere.
Says Taylor: "The alteration envelope on the system is kilometers long, kilometers wide. It's one of the most prolifically mineralized areas that I've seen in my career.
"So, in terms of having lots of mineralized showings concentrated within several kilometers by several kilometers, it's clearly a very big mineralized system."
No question that the opportunity here is big.  You can see it with the naked eye.
John Robins says after he visited the property, it was a 9-out-of-10-for him.
"The big thing for me is that, there's multi-million ounce potential, high-grade, and a clear path for a potential exit, which I think is the key thing for any project."
Those words from that man were really all that I really needed to know.  But I was keen to learn more….
 
Abundant High-Grade Oxide Gold
At Surface Is Very Unusual
 
Mojave is an epithermal gold project, which makes sense given that it is located in that neck of the woods (the famous Walker-Lane District, which hosts many deposits).
But the surprise at Mojave is the multi-gram oxide gold grades in historic and recent samplings at surface.
Taylor told me the gold grades were actually hard to believe for oxide gold.
"I had a hard time believing the data, because it is really compelling.  It's clearly a very large mineralized system (with) very good grades of oxide gold at surface."
When Taylor first secured Mojave he went down and did some field work of his own.  He got his hands dirty. 
He was hand-trenching……one of the trenches that he sampled by hand, was 25.6 meters of over eight grams per tonne oxide gold. 
That is a pretty incredible find, to have that sitting at the surface still.  BHP trenched another zone of 42.7 meters of over four grams per tonne gold which remains undrilled.
Usually, with oxide gold deposits, people are excited about grades that are less than one gram per tonne.  Because gold is so easily extracted from oxide, people will often call anything close to one gram per tonne as being "high-grade". 
Mojave's historic and recent samples are often 4-8x that…..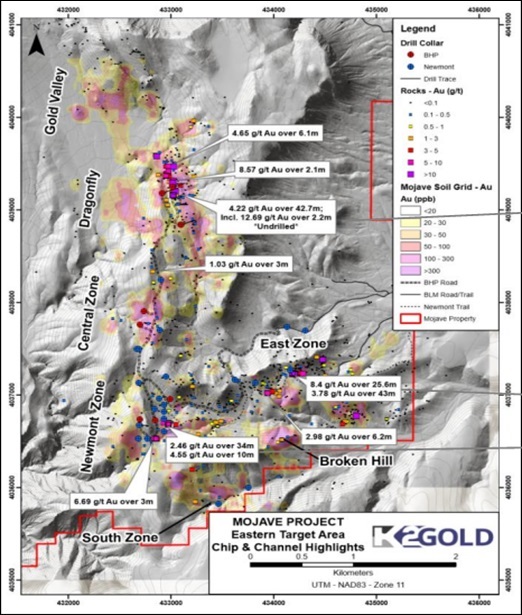 All the signals from Mojave are what you want to see. 
AND…the project is surrounded by mines.  The Santa Rosa mine is just south of the property boundary. And then, you have Cerro Gordo, which is a mining district on the north part of the property boundary.  To the east are more mines – Bullfrog, Motherlode and Sterling.
The K2 Gold story is so simple for investors.
It has:
a property that two of the top geo's of this generation say is one of the best they have EVER seen
deep-pocketed and strong technical management
who own a lot of stock
a tight share structure (with no warrants )
large and easily visible geologic structure
abundant high-grade oxide gold at surface
on a major mineralized trend; surrounded by other active and historical mines or deposits
drills are turning NOW
Everyone who looks at the property is excited by it.  Now we finally have a well-funded team that is going to see it through to a real drilling program.
 
NEW TECHNOLOGY SHOWS THE BULLS-EYE
The Intersection Of Two Major Zones
– Newmont and Dragonfly
 
Modern technology is giving the K2 Gold team more data about Mojave than any prior operator.  By using a new satellite imaging technology called WorldView-3, Robins and group found four major new targets.
More importantly, it confirmed where the two major mineral trends on Mojave – Dragonfly and Newmont – actually intersect.  That is big news because intersections like this is where really big discoveries are often made.
The other technology is called Lidar – and to explain this easily, Swatton says they can use it to find and trace geological faults within centimeters.  These faults often host or run parallel to major mineralization.
Add modern technology to that list of investor positives.
I don't have room in this story to speak to the many other high priority targets. Because I want to keep it simple, I don't want to bring up the porphyry potential management sees on west side of the property. 
All I want to leave you with is that two top geo's–who have made shareholders a lot of money this year!!!—LOVE this property.  A master negotiator convinced the prospector to work with them.
It took the whole team to get this large, high-grade oxide gold property to market as gold flirts around at all-time high prices.
The drills are turning NOW, and you know what happens when this group hits a discovery hole.  That's why I own stock!!
K2 Gold management has reviewed and sponsored this article. The information in this newsletter does not constitute an offer to sell or a solicitation of an offer to buy any securities of a corporation or entity, including U.S. Traded Securities or U.S. Quoted Securities, in the United States or to U.S. Persons. Securities may not be offered or sold in the United States except in compliance with the registration requirements of the Securities Act and applicable U.S. state securities laws or pursuant to an exemption therefrom. Any public offering of securities in the United States may only be made by means of a prospectus containing detailed information about the corporation or entity and its management as well as financial statements. No securities regulatory authority in the United States has either approved or disapproved of the contents of any newsletter.
Keith Schaefer is not registered with the United States Securities and Exchange Commission (the "SEC"): as a "broker-dealer" under the Exchange Act, as an "investment adviser" under the Investment Advisers Act of 1940, or in any other capacity. He is also not registered with any state securities commission or authority as a broker-dealer or investment advisor or in any other capacity.