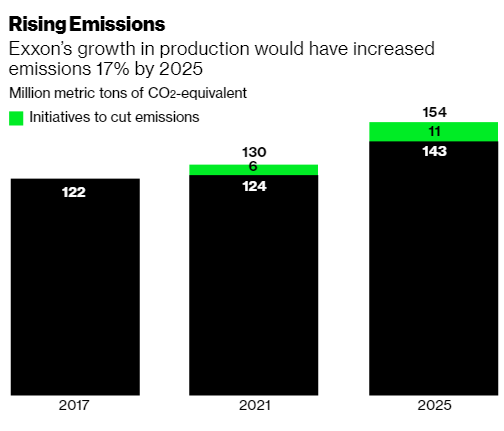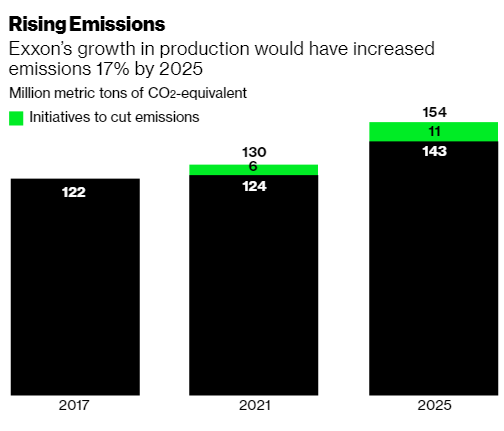 From Bloomberg Green:
Exxon Mobil Corp. has been planning to increase annual carbon-dioxide emissions by as much as the output of the entire nation of Greece (17% — see graph), an analysis of internal documents reviewed by Bloomberg shows, setting one of the largest corporate emitters against international efforts to slow the pace of warming.
The drive to expand both fossil-fuel production and planet-warming pollution comes at a time when some of Exxon's rivals, such as BP Plc and Royal Dutch Shell Plc, are moving to curb oil and zero-out emissions. Exxon's own assessment of its $210 billion investment strategy shows yearly emissions rising 17% by 2025, according to the internal documents.
The largest U.S. oil producer has never made a commitment to lower oil and gas output or set a date by which it will become carbon neutral, and its near-term plans have been disrupted by fallout from the Covid-19 pandemic. Exxon has also never publicly disclosed its forecasts for its own emissions.
But the planning documents show for the first time that Exxon has carefully assessed the direct emissions it expects from the seven-year investment plan adopted in 2018 by Chief Executive Officer Darren Woods. The additional 21 million metric tons of carbon dioxide per year that would result from ramping up production dwarfs Exxon's projections for its own efforts to reduce pollution, such as deploying renewable energy and burying some carbon dioxide.
I have never understood the concept of getting rich by poising this planet and its inhabitants, and I know I never will.  Most of us are born with a conscience that forces us to feel some level of empathy for others' suffering.  This means we have a strong resistance to deliberately causing misery.  Others apparently simply didn't get that gene.